CENTER GOMMA products represent the symbol of the company philosophy, which conveys all the rich know-how resulting from decades of tradition in rubber processing and pours it into the creation of innovative, high-performance compounds designed to meet ever-changing technical and quality specifications. And it is precisely the attention and care towards the particular needs of each of our customers the secret that has led us to
continuous and progressive innovation, remaining a solid point of reference through the seasons of an increasingly dynamic market but attentive to growing specificity. To complete the picture, frame and crown of our business are the attention to environmental sustainability, the recovery of precious resources for the planet and social commitment. The circular economy has been a reality for us since long.
We design our compounds in close collaboration with our customers, turning the experience gained over the years to the most important international industry standards. Each single compound represents the result of a project, which aims to comply with the technical specifications of the sector. CENTER GOMMA performances are reflected in the wide range of our products: from hardness standards to abrasion resistance, from self-extinguishing compounds to resistance to high pressures and atmospheric wear. The market evolves and needs are clarified, so alongside the compounds for the retreading of tires, our hard core, we have added over the time specially-made compounds for the sector of conveyor belts, road supports and many other technical items. A response to every request, a solution to every performance and packaging requirement.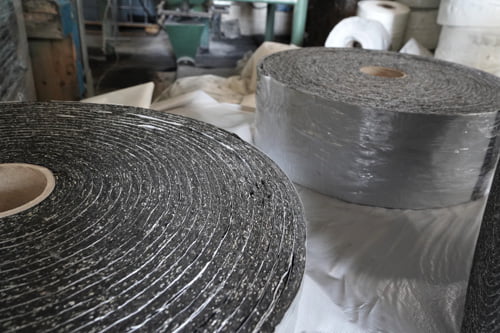 An element of a highly versatile nature, rubber is able to blend and strengthen itself in cooperation with many other materials. CENTER GOMMA textile friction cord is a strong material, in which a high-performance rubber compound is combined with a dense weave of high-strength fibers to create a material capable of withstanding considerable pressures and pressing usage times It is essential in the production of solid tires and in every other product that may require strength, versatility and ease of use. Our textile friction cord is supplied in the form of pre-cut rolls (according to the customer's technical specifications) or compressed granules in bales.
A car ride through the sinuous countryside of the Marche, a visit to the architectural and cultural beauties of our cities, perhaps aboard an agile Vespa? Do it by choosing our car and moped mats. The range is wide, but the usual quality is not disregarded. You will find that our mats are 100% made in Italy, reliable and durable. The journey will be even more enjoyable with them.
In the innovative development of our company, a unique and completely home made product could not be missing: conceived, desired, created and finally patented. ECORUBBER PALLET is the only pallet made entirely of recycled rubber ever made. With a capacity of more than 1500 kg, it is strong and flexible at the same time. It has an extreme resistance to temperatures and any type of weather. Basically, it is unbreakable. To be sure that our pallet was truly the product we dreamed of, we decided to subject it to the most extreme stresses, not just conventional load and strength tests. The goal was to create a useful tool in the long term in the various steps of warehouse logistics and, with these high technical specifications, we guarantee certified reliability even when fully loaded.
CUMMIS® is our contribution to the consolidation of a circular economy based on the protection of the planet and the quality of products. Imagine a tyre. Strong, elastic, reliable and able to withstand tens of thousands of kilometers. From the "pre-consumer" production waste of that same tyre we have created the CUMMIS®. An ecological rubber sheet which represents a valid alternative (100% Animal free) to leather and hide derived from animal slaughter in all those sectors increasingly oriented towards green solutions. Composed of 65% recycled rubber from the tire industry and the remaining 35% of rubber not added with dyes (IPA free), the CUMMIS® compound has passed all REACH (Registration, Evaluation, Authorization and restriction of Chemicals) compliance tests which guarantee its complete safety. Thanks to green communities and "future" retailers, attentive to recycling, we offer to the market bags for motorcycles, shoes, fashion and office accessories made entirely of CUMMIS® branded ROY REBEL®, a trademark designed and created by Center Gomma to spread the ethics of "waste back to shop window". This means, for us, Re-creating a sustainable future, together. Re-Do for the future.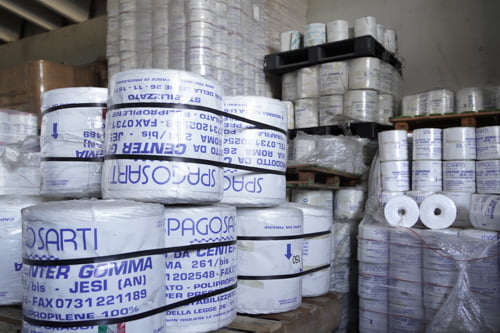 We are rubber specialists, it is true, but our land calls us and we gladly respond to it. Inside our warehouse, you will find a small but complete offer of polypropylene lanyard for use in agriculture. Our twine is also 100% Italian, resistant to UV rays. It will be our care and pleasure to offer you the best assistance even in this area.